Your backyard is an extension of your home that deserves just as much attention as the interior. If you want to spend more time outside this year, use one of these backyard ideas to create a private oasis.
Best Backyard Landscaping Ideas For 2023
It doesn't matter how big or small your backyard is, there is always something you can do to make the space more enjoyable. If you're looking for ways to elevate your outdoor spaces, take inspiration from one of these 50 backyard designs.
---
Modern Landscape Design
Design is a philosophy rooted in style and taste. If you'd like to apply a modern style to your backyard, common elements include manicured lawns, clean and simple lines, and small vegetation.
Check out this backyard from designer Dylan Farrell who applied a mix of styles for a modern design.
---
Modern Farmhouse Backyard
Farmhouse backyard ideas are organic. Rather than using super clean lines and straight edges, focus on natural shapes and materials like stones and plants.
Although simple, the backyard of this house designed by Wade Design Architects has plenty of character.
---
Quaint Outdoor Space
A backyard includes a sitting area that could serve a variety of purposes. Here, studio Adam Robinson Design created a corner nook with an L-shaped bench and built-in planters to create a fresh backdrop. There's also lots of vegetation camouflaging the other sides of this small backyard. 
---
Covered Seating Areas
A patio makeover can transform a backyard. Use your patio for an outdoor picnic or dining area with a table, benches, and warm lighting fixtures hanging from above.
Adding a bar or an outdoor kitchen can also give the backyard more purpose. Perhaps this holiday home redesigned by L'Atelier Delphine Carrère can inspire you. 
---
Backyard Fire Pit Layout
You don't need a large backyard to create an outdoor living room. Designed by Nicole Hollis, this is an example of how a small backyard has massive potential.
The backyard space looks and feels like an oasis. There's plenty of vegetation that masks the boundaries of the backyard and a lovely fire pit seating area in the middle. 
---
Stone Patio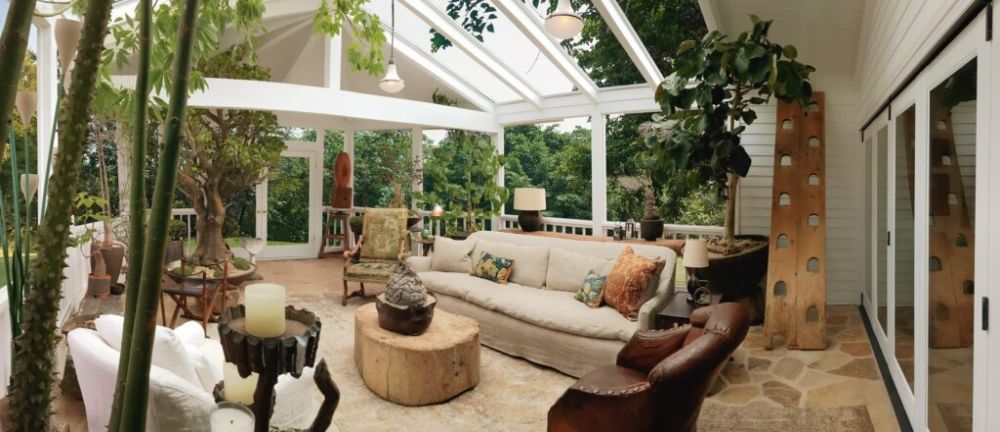 You can also treat the backyard as a natural extension of your indoor living area and create lavish seating. Include comfortable furniture like a sofa and upholstered armchairs, a coffee table, accent lighting, and some decorations. Potted plants would fit right in. Check out this design by Jane Hallworth for more inspiration. 
---
Stepping Stones
This small backyard is framed by brick walls, adding a personal touch of comfort and security. Potted plants and vines placed along the walls provide a green setting. The steps and stone pathway create added layers of character and style. This London townhouse was designed by Studio AND.
---
Modern Seating
Levels make everything more interesting. Here you can see how layered sections of this backyard add dimension. There's a variety of elements at play here, like hanging chairs, a couple of sitting areas, and a small backyard pool. This stylish design is part of a project done by CLO Studios.
---
Shade Patio
You might think there's no room in a small backyard for tall trees. But, depending on your landscaping plans, tall trees can work as accents.
Trees provide shade and add charm and beauty to the space around them. Perhaps this courtyard design by Wyer & Co. can convince you. 
---
Concrete And Grass
If it wasn't for the green, this space could be considered a brutalist backyard. It features concrete-like finishes with unsymmetrical lines. A more organic design approach can be ideal, even when we're talking about a modern or contemporary backyard.
Designed by COS Design, this backyard provides inspiration for contemporary style. 
---
Outdoor Viewscape
Take advantage of a beautiful view if you have one. A backyard that opens onto a lake can make the water a focal point. Designed by Kylee Shintaffer, this vacation home is a great example. The trees along the edge of the lake frame the view, and the natural materials complement the setting.
---
Modern Treehouse
Do you know what else you could put in your backyard? A treehouse. A tree house works as a play place for kids or as an accent in the garden.
You could even build a platform around a big tree and turn it into a spot from which to admire the surrounding landscape. Let this bungalow designed by Luigi Rosselli Architects inspire you. 
---
Concrete Fire Pit
Another sharp feature that can transform your backyard landscape is an outdoor fireplace. It's the perfect focal point for a comfortable seating area, and you can adapt it to any style. Check out this modern backyard setup by Studio Dumais if you're a fan of simplicity and elegance. 
---
Shabby Chic Backyard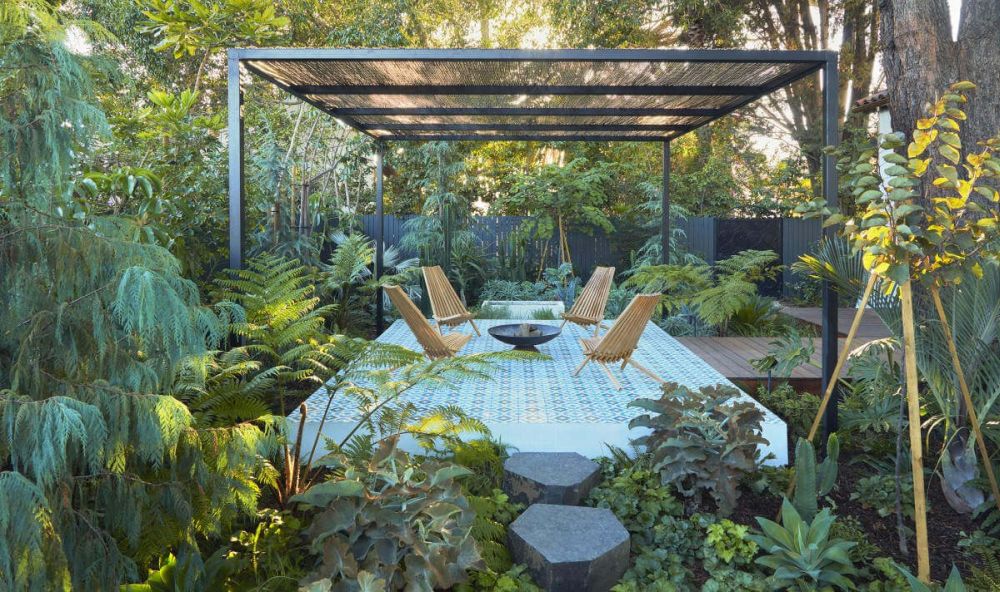 A design like this takes advantage of natural beauty and a diversity of plants. The fire pit seating area is the central focal point, with plenty of places to spread out.
The raised platform patio features a tile pattern framed by a modern pergola and linked to the rest of the backyard by a simple wooden pathway. Architect Terremoto designed this landscape.
---
Backyard Stone Patio
Why choose between beauty and function when you can have both? This backyard landscape by Studio Outdoor Establishments is an example. It has this cozy seating area connected to the house's patio, which ensures a smooth transition toward the garden.
The raised platform creates a clear delineation, and the modern pathway maintains a clean and simple look throughout the yard. 
---
Wood Deck
Another way of adding more functionality to the backyard is by including an outdoor kitchen. Designed by Rebecca Naughtin Architect, this space features elements that coordinate with its interior.
---
Tight Landscaping Design
Having a small backyard requires you to be clever with your layout. You can save space with built-in outdoor furniture, and you can create multiple levels to give the impression of a larger and more diversified yard
There are plenty of ideas to borrow from this design by Nathalie Thibodeau Architecte.
---
Outdoor Pool Landscape
If you have an inground swimming pool in your backyard, make it the focal point. For a minimal look, keep the rest of the yard simple – create a couple of seating options and a small outdoor kitchen so guests can grab drinks when lounging by the pool.
If you have kids, you'll want your pool to remain in view so you can keep an eye on things. Check out this design by studio BIAGIONI/PECORARI Arquitectos for more ideas. 
---
Asymmetrical design
You can transform a small backyard into an outdoor entertainment area with comfortable seating, accent tables, and lighting if you have the space.
Studio SHED Architecture & Design created an inviting space with wood flooring materials equipped to handle heavy traffic.
---
Fresh Air Oasis
Although not a big outdoor space, there's a lot going on in this modern yard design. There's a pool in one of the corners framed by a wooden deck and tall stone walls. The steps, hammock, and diversity of plants fill the space. This was part of a project from the studio Taller Mexicano de Arquitectura.
---
Simple Outdoor Dining
Overcomplicating things is never a good idea when designing outdoor spaces. Sometimes the simplest ideas are the best ones, like turning a section of grass into an outdoor dining area.
Designed by studio Alta Architecture, this backyard design idea is simple and elegant. 
---
Stone Patio 
Surrounded by shrubs and shade, a patio like this provides a great place to relax. To get this look, include planters of all shapes and sizes and layer in sculptures, rocks, and boulders.
A big tree can serve as a focal point, and you can place different types of furniture to create an organic aesthetic. You can borrow ideas from this design from The Grid Architects.
---
Minimalist Landscape
There's nothing wrong with a flat outdoor space as long as it looks nice. A low-profile topography allows for a better view of the surroundings and the landscape in the distance.
Such a terrain would also suit a contemporary house – this design by Besonias Almeida Arquitectos is a good example. 
---
Outdoor Extension
It's not just the backyard that matters but also the transition from inside to outside the house. A good way to make it feel natural is through full-height windows and sliding glass doors.
Most old houses don't have these features, so a small extension may be necessary for a similar look. Studio Amos Goldreich Architecture designed this modern indoor/outdoor space.
---
Oversize Windows
You don't have to be outside to appreciate your outdoor landscape. You can install giant windows to enjoy outdoor foliage from the comfort of your home.
Studio Rider Stirland Architects worked on such a project adding a simple green landscape and floor-to-ceiling windows.
---
Covered Outdoor Patio
A big patio or deck can make the transition between indoor and outdoor areas smoother. Add a pergola or roof for shade and protection for the ultimate paradise.
For a minimal look, stick to only a couple of pieces of furniture when decorating these outdoor areas. The space you see here was designed by studio GM Arquitecto. 
---
Contemporary Escape
Pergolas are great outdoor features you can adapt to every style.  Here, for example, the pergola is across from the swimming pool, providing shade for those who don't want to swim. NiHu Arquitectos complete this backyard design project.
---
Elevated Deck 
Flagstone walkways have a charm of their own and are an easy DIY project. You can be creative, installing a walkway or flagstone patio or incorporating them into your garden.
Studio Arthur Casas designed this backyard landscaping idea for a bridge between organic and modern.
---
Outdoor Cinema
If you want to, you can try out-of-the-box ideas for your backyard. For instance, you can have an outdoor TV and create a movie theater with a few comfortable seats and an accent table or two. You don't need a big space for this. Studio Megowan Architectural uses that strategy here. 
---
Appealing Decor
By adding a small extension with sliding glass walls and keeping the rest of the area simple, SHH Architects transformed this house from London. There was not a lot of space to work with, but they made the most of what was available in this modern backyard patio design. 
---
Steel Planters
The look of weathered steel in an outdoor space adds texture. It's a good fit for a variety of styles but coordinates best with modern and contemporary decor. The Corten steel planters, black love rock, and green plants look zen in this backyard designed by studio KUBE Architecture.
---
Outdoor Storage Space
If you burn a lot of wood during warm months, include storage space for firewood in your backyard landscape plan. Designed by Hufft Projects, they used every square inch of this outdoor setting. Rather than looking messy, the wood pile adds charm and character to this area. 
---
Pool Landscape Design
As the saying goes, "more pool equals less lawn." Backyard landscaping ideas are not relegated to grass and plants. The designer chose a slender frame and full-height sliding glass walls on the covered patio, allowing the best views of the modern pool.
Even when it's closed off, this area still feels like a part of the backyard. The design is from studio ACA. 
---
Relaxing Outdoor Spaces
Blue and turquoise serve as accent colors to give this outdoor living room a trendy vibe. The chairs and accent pillows coordinate with the swimming pool adding a tropical and vibrant look. Studio Reinach Mendonça Arquitetos Associados created this refreshing backyard.
---
Open Seating Area
The open terraced design suits this outdoor living room environment. The covered deck leads down to a paver patio, and the glass railings allow an unobstructed view of the area below. This project was completed by Manuel Cervantes Estudio in Mexico. 
---
Greenery Dividers
Check out this cool-looking outdoor fireplace with a chimney. It fits in the back of this small seating area and helps to maintain a symmetrical and stylish design throughout.
There's a fireplace with the same style inside. Check out Meyer Davis Studio Inc for more cool projects like this one. 
---
Deck Trees
The soft wooden deck in this outdoor living space complements the surrounding plant life. Large hanging planters break the monotony, along with a few trees growing through the deck.
The trees offer shade, making this space welcoming during the day and night. Studio Chris Dyson Architects designed this small backyard.
---
Sunbathing Deck
There's nothing like an ocean view from your own backyard. ShubinDonaldson Architects designed this outdoor living space, using the view as a focal point and keeping the patio and furniture design clean and modern.
---
Garden Landscape
If you're sick of mowing and watering your lawn, why not put your land to good use and start a garden? You could even sell produce to your neighbors.
Cover your lawn with brick patio pavers and surround your backyard with raised beds. You can fill the beds with your favorite flowers, vegetables, or both. Check out Environmental Landscape Associates for other clever design ideas. 
---
Ambiance Setting
Utilize your landscape for an organic touch. Rather than installing a paver patio, for example, you can place a small table and chairs directly onto the green grass. Instead of retaining walls, you can make use of stones for a natural look.
---
Rock Landscape
On the same note, this beautiful backyard designed by studio ARNOLD Masonry and Landscape has a very authentic and organic look. Small trees and string lights surround the main seating area.
The space makes use of natural materials like stone and wood and has a fire pit as a focal point with a view of a wooded area. 
---
Outdoor Riverscape
A water feature has the potential to transform a backyard landscape. You can install a small artificial waterfall for a dramatic but zen-like effect. Also, don't forget to include backyard lights to make the space look magical. Check out studio The Landscape Connection for more landscaping ideas. 
---
Greenery Layout
Rather than straight lines and flat surfaces throughout, try to add variation and visual interest with a custom layout. This brick patio by KD Landscape has a big cut-out that acts as a large garden bed, separating it into two main sections. 
---
Private Nursery
Instead of vegetables, grow flowers in your backyard design. You could also dedicate a section of your backyard to vegetables and herbs. Growing plants is a rewarding process that also makes your yard look better. You can find inspiration in this design from Studio Surrounds. 
---
Balance And Order
The size of this backyard provides enough space for a nice patio, a topiary garden, and a gazebo. Designed by studio Oliver Design Associates, this backyard has an old-school high-end feel and is appropriate for traditional homes and classic-style architecture. 
---
Outdoor Living Room
With backyard landscaping, color is always a great way to add energy to a flat space. There are many ways to do this, which include adding furniture, plant life, or accessories to your design. Combine these ideas to create a beautiful design like this one by Studio H Landscape Architecture. 
---
Open Fireplace
Among backyard landscaping ideas in colder climates, a fire pit offers outdoor warmth year-round. Outdoor fireplaces and fire pits are the best focal points for backyards. Even a small fire pit can change the look and feel of the space around it.
An example is this small backyard design by B. Jane Gardens. 
---
Hard Landscaping
What can be more charming than sitting in a comfortable chair underneath a big tree? You don't need much to create a dreamy space like this in your own backyard.
You can build a wooden deck around a large shade tree like Landscape East & West did in this example. Then load it up with comfy outdoor furniture.
---
Pergola Tranquility
Looking for inspiration for a contemporary backyard design? Try this example from Chateau Construction Company. It features a nice green lawn, a big wooden deck with comfortable furniture, lighting, and a pergola. The design is clean and simple without looking boring.
---
Storybook Setting
Backyards don't get much better than this one from Modern Rustic Homes. The small pond topped with lily pads and surrounded by plants gives a tranquil feel to the yard. Even though this backyard is small, the design makes a huge impact. 
Frequently Asked Questions (FAQ)
FAQ
What Is The Cheapest Way To Landscape A Backyard?
If you're on a tight budget, or you don't care about your backyard, pea gravel is the cheapest landscape option. It's used on pathways, patios, and other high traffic areas. The appeal of pea gravel is that it's a smooth stone, so it doesn't hurt your feet when you walk on it.
How Do I Landscape My Backyard For Privacy?
For optimum backyard privacy, plant tall shrubs along the border of your property. After you plant the tall shrubs, for an extra layer of privacy, plant smaller bushes. Within four months, your neighbors won't be able to see a thing.
How Can I Make My Backyard Landscape Without Grass?
If you don't want grass, then don't grow it. You can cover your backyard with rocks. Another option would be to cover your backyard landscape with concrete and turn it into a basketball court.  
How Do You Landscape A Muddy Backyard?
The first thing is to turn off the water source. One would think common sense might prevail in this situation, but we'll spell it out for you anyway. When you add water to dry dirt and soil it will create mud. The more water and dirt you mix the more mud you will create. So, by turning off your water source, you'll deplete your mud supply.
How Do You Landscape A Backyard Sloping?
Two ways you can landscape a backyard slope would be to use flat stones to create a footpath or build a natural rock garden. Vegetable gardens are also ideal for sloped backyards, plus you can design wood steps in between your vegetable rows.
Your backyard can be a great place to relax and enjoy the outdoors, entertain guests, and showcase your personality. Whether you're looking to update your backyard or create a new one from scratch, consider the foot traffic, the layout of your yard, intended use, and personal style before developing a plan.
If you want to add interest to your outdoor space, try landscaping features like a garden path, stone patio, or fire pit. A fast and easy way to spruce up your backyard is with new mulch and plants.